First we want to tell and explain what turronesydulces.com is today and then we will focus on the entire history of the project, from documents dating from 1906, through home videos from 1989 to all the bustle of data and multimedia content that They lend us today the new technologies (Social Networks, Youtube, etc.).
First jewel: notebook of expenses of the year 1898 of our great-grandfather. Among the expenses: for a gas cuff, for sleeping in the inn, for a pint of oil, paper for the stop, for the expenses of the steam, for some sprinkles for me ...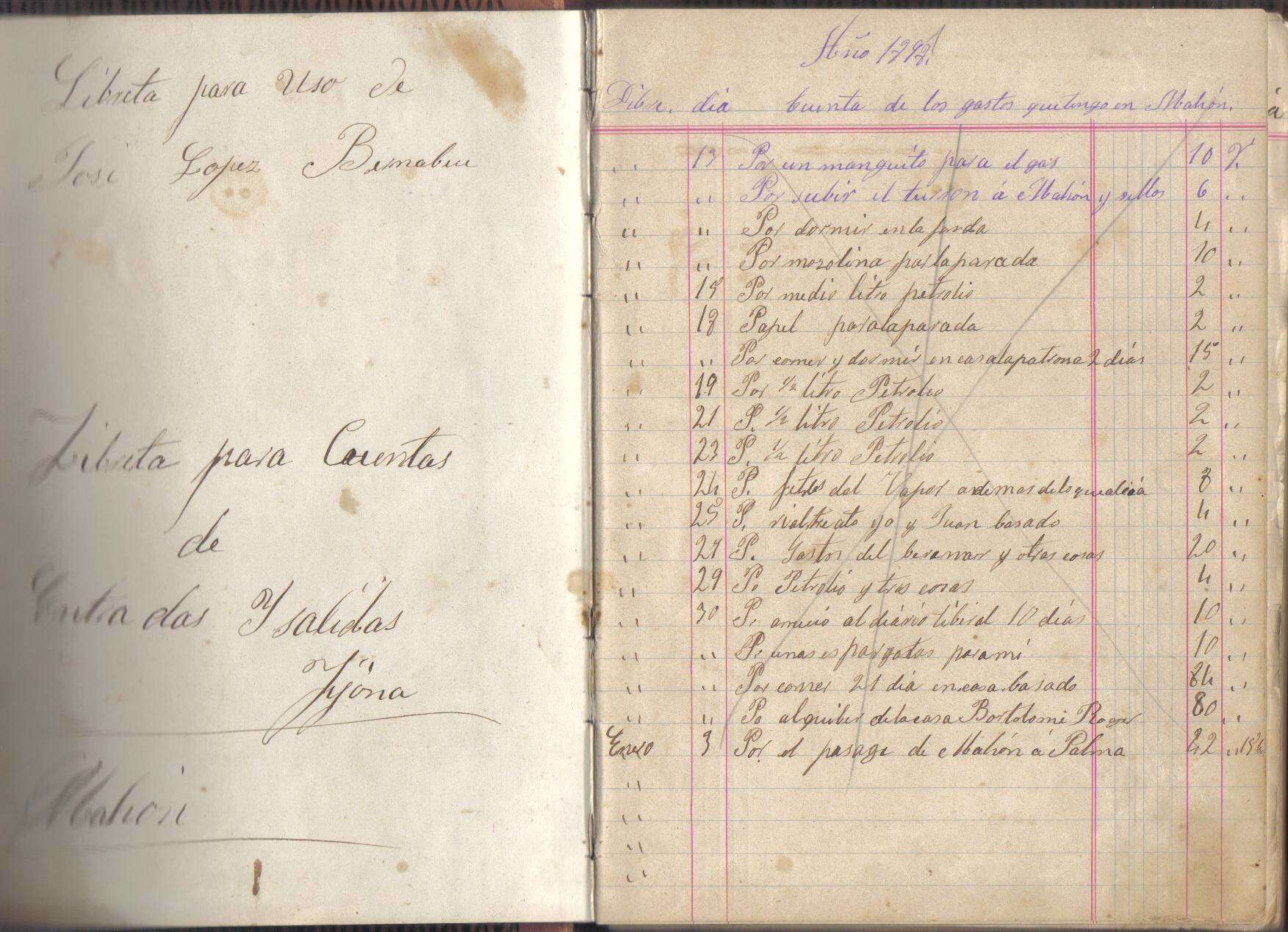 Any project, and among them are obviously the families that have the company as a way of life, go through different phases, some more stable and other more dynamic. In the sector of turrón, so old and so traditional, there is a great emotional content since most of our ancestors are related to this industry, and we can count the phases even taking into account the different family generations. Inquiring in the genealogical tree, the majority of jijonencos could find norsemen ancestors from before century XVIII, and all this, of course, is part of our marketing.
But let's start with the current situation of turronesydulces.com, which remains a project with great emotional and personal burden:
What is turronesydulces.com
We are an online (and offline) shop that offers the largest catalog of nougat and sweet artisans with Denomination of Origin Jijona and Alicante made with our lifelong formulas (some are more than 100 years old). We are pioneers in Internet sales and our business model is focused on product and customer. Example: here we retrieve the recipe of Grandmother Gloria's grandmother's aunt, from the 19th century.

The main objective is that whoever wants to buy a good quality and freshly made craftsman, have it quickly at home with the best deal from you to you, like the shops of a lifetime.

Nougat throughout the year, despite its seasonal character. That is our main motto.

Not only do we sell our brand, but we do select the best products made in Jijona and what customers demand (which we did not have before) and offer them on our website, even if they are from other suppliers or brands such as nougat El Abuelo.

In the year 2016 we have opened an offline store in Jijona, the cradle of nougat. It is our showroom where you can buy and taste nougat in Jijona, Alicante, and the starting point to start our guided visits to the nougat factory and the village in general.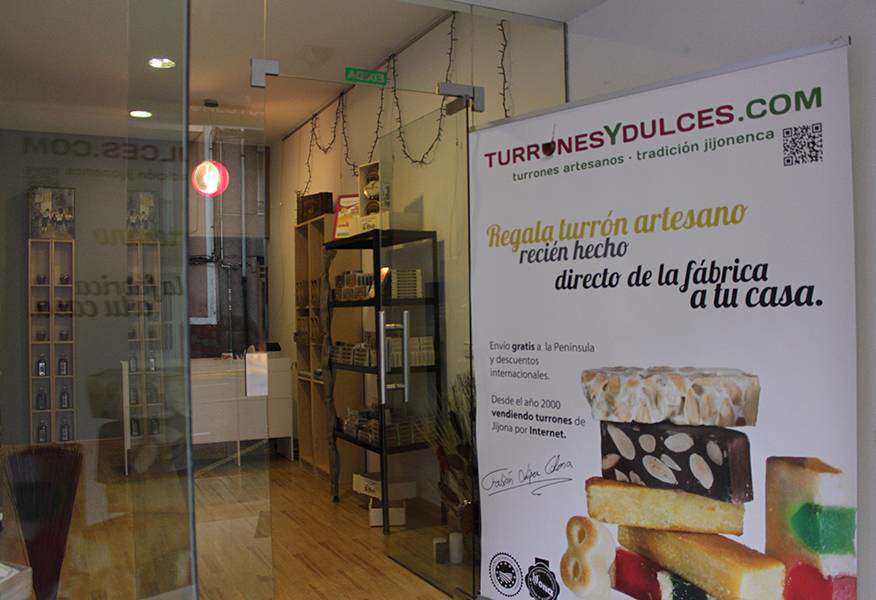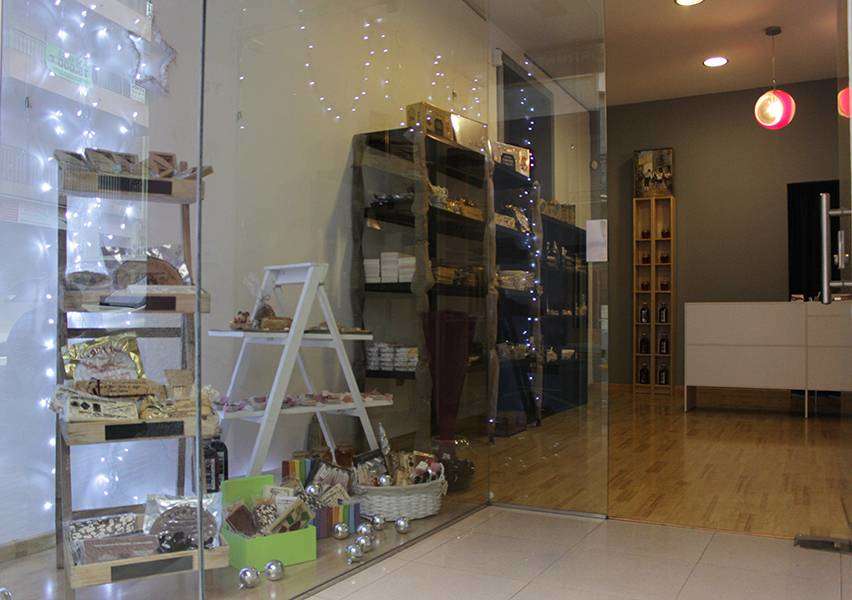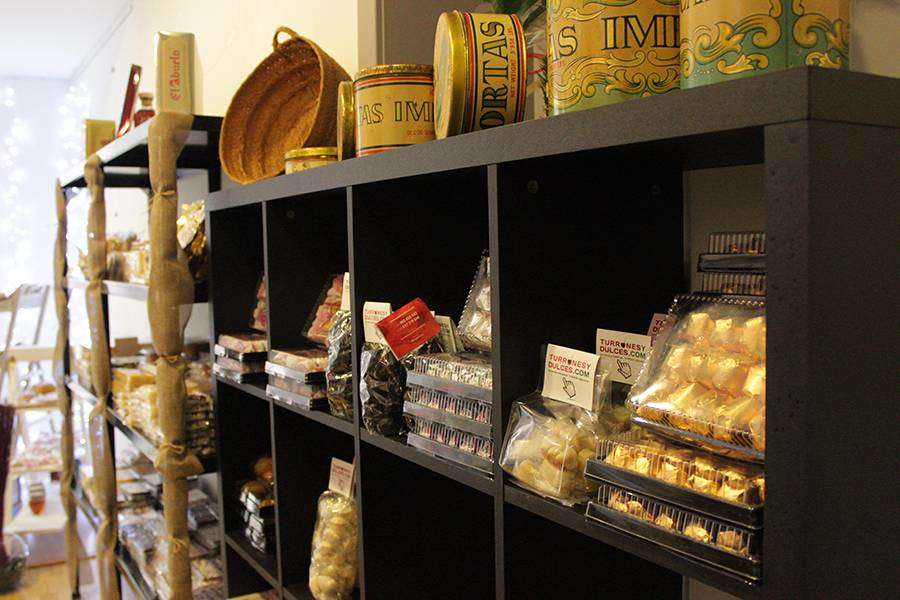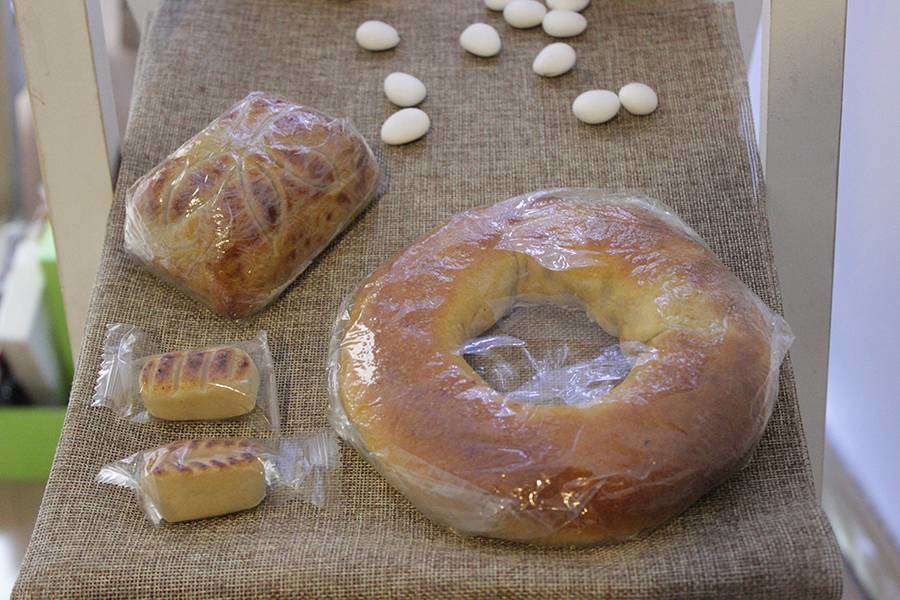 We sell on the Internet since 2000, although it is actually in 2002 when we registered the domain name of turronesydulces.com. A little further down this text we tell you the story of how the adventure began, although basically it is summarized that everything started selling nougats to beads, teachers, and staff of the Polytechnic University of Valencia, where the founder (Fabian, who writes these Lines) was studying Telecommunications Engineering.
To date we have sent thousands of packages with nougats to more than 20 countries around the world, and the best thing is that because of what our customers tell us, we have made many "Spaniards around the world" happy, which is what That more motivates us to follow. Places include Japan (Okunawa Islands), Singapore, Qatar, Lapland, Norway ...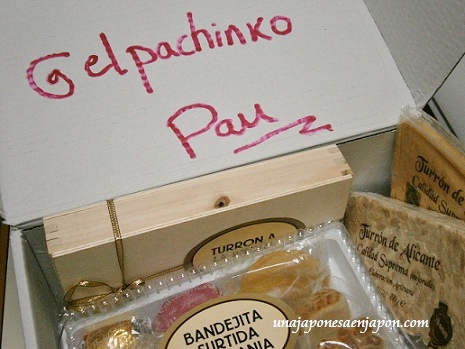 About our brand:
The brand of nougat we manufacture is precisely turronesydulces.com. That is, we use the brand that has the name of our website, which is quite generic, but is what allows us to be a marketplace, a vertical portal with the best nougat of all kinds. We could have created a brand with name and surnames, which is typical in the world of nougat, for example, "nougat Fabian" or similar, but we only include the signature in the packaging. Also, when requested by our customers (mainly self-employed or companies) we serve "anonymous".
At the marketing level, such a generic name is difficult to remember, and we always point out that it is turronesydulces dot com, and not "nougat and sweets" to dry, since it is a very online project. The reason for such a generic brand is that when we started to sell on the Internet, my father always said that he had caution and respect to the cleintes since they could be offended if they saw the name of the factory competing with them. At that time (year 2002) nobody really sold nougats on the Internet but we left the way prepared to try not to disturb anyone. To this day, it is more common for manufacturers themselves, such as footwear, to have their own online stores.
Possibly we believe or recover a brand soon, but we want to make it clear that turronesydulces.com is a vertical portal, that is, a place where you can always find the best nougat ones, both ours and other manufacturers that meet the quality requirements.
About the nougat factory in Jijona
All business projects often have a motive, a justification, a why. We no longer speak of the distant ancestors. Maybe being Jijona, being born and raised in a factory, having the obrador under your feet, making castles and caches with cartons where they packed the cakes of yolk and polvorones, to have even a grandmother named Gloria , Making the cakes of the same name, makes that, once you grow you need not take off from all that, even though even on a personal and professional level you develop in other areas.
Here you can see me with 9 years in the factory, learning by playing:
And here you have me a little older, one day that almost by chance, I decided to record a video similar to "fent caixons". I have put it in some conferences, talks and classes (I am a teacher) and it seems that they always remind me of this, instead of the content of the same ones; The truth is that when I recorded it years ago that it did not make drawers, but it seems that it is innate, although perhaps it was to the force. If I did not make coffins they would not let me go out to play football, so I had to debug the technique:
We follow. Most of the nougats sold on the web were made in Matilde Coloma Ramos (my mother's) factory, especially the marzipan, polvorones and nougat of obrador (yolk, turrón a la piedra, etc.) .
I finally decided to include this video from the year 1989 (the one from before is a cut from this video). Before, everything was different. On a personal level, I find it very emotional to remember family members who are gone and how to work before. The gifts (working women) were part of my life. With them I played, I laughed and I learned.
In the guided tours I usually do, I try to explain how I worked before, but I do not think I can ever convey the essence. Clearly, at the technological and food safety level, everything has changed a lot (wood, for example, is banned in utensils and containers and rings can not be worn, as shown in the video). Now everyone uses computers with the Internet and typewriters are obsolete, the Fax is almost gone, and all the factories have machines to sign. I remember that at that time I went down every day to "sing les hores", that is, to write down all the extra hours that made "them gifts" in a template with tables.
Almost all the work was manual, especially to make the cakes of yolk and glory, the cakes of cádiz, the eels of yolk ... Everything was baked tray to tray and not in whole carts that are put in the oven like today In day (or in large production lines). Of all the video, perhaps the most impressive thing is to see how they sang. Yes, to make work more enjoyable, "les dones cantaven". In all the factories they did it. They were carols, songs, pasodobles ...
Most of our nougats are made in Jijona S.A., an emblematic company formed by more than 200 partners and suppliers. The maquiler is that partner who makes his nougat with his own raw materials and formulas. In 1931, many turroneros created this corporation, with a format very similar to the current cooperatives (at that time there was no such legal form). Therefore, the factory is in charge of the elaboration to detail of different brands, so much of the partners maquileros, like own marks like the Abuelo.
In the maquila, the turronero creates its parts of manufacture with the appropriate percentages of raw material and the kilos to be manufactured. The manufacturing shifts are administered and are followed depending on the selected date and request. The nonstick masters of the factory are in charge of following the indications of each formula, while also managing the incorporation of all kinds of labels, stickers, cellophane, rilsan bags, carton, etc.
The different versions of our online store since 2003
- 2002-2003: first version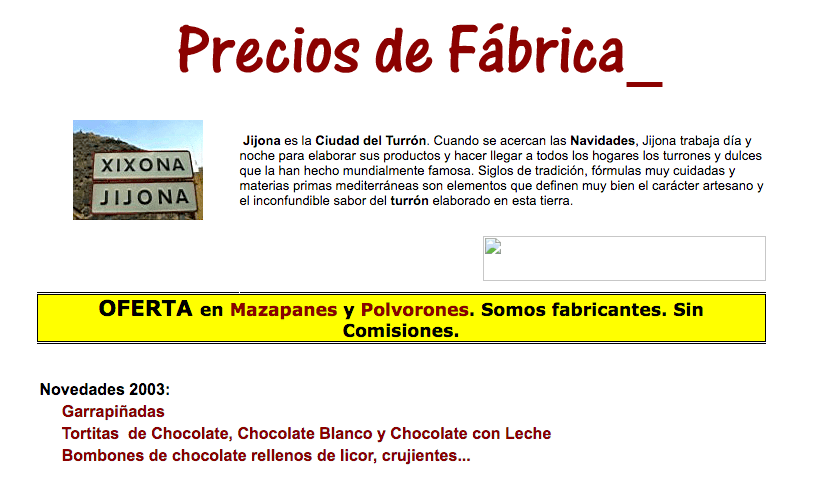 - 2006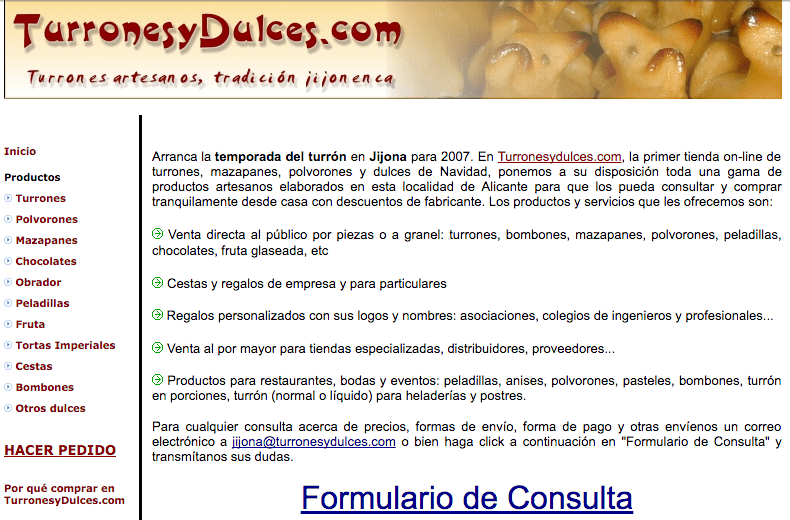 - 2008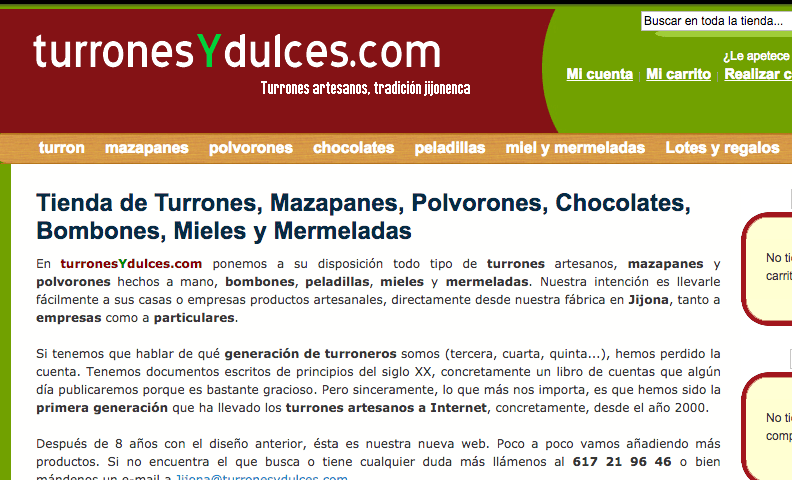 2010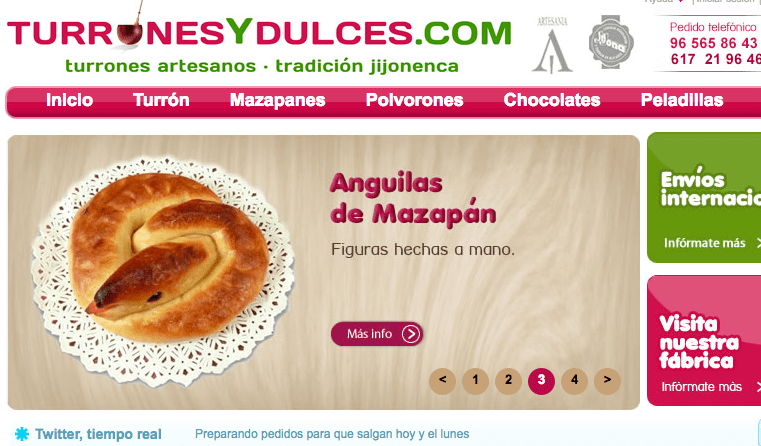 Nowadays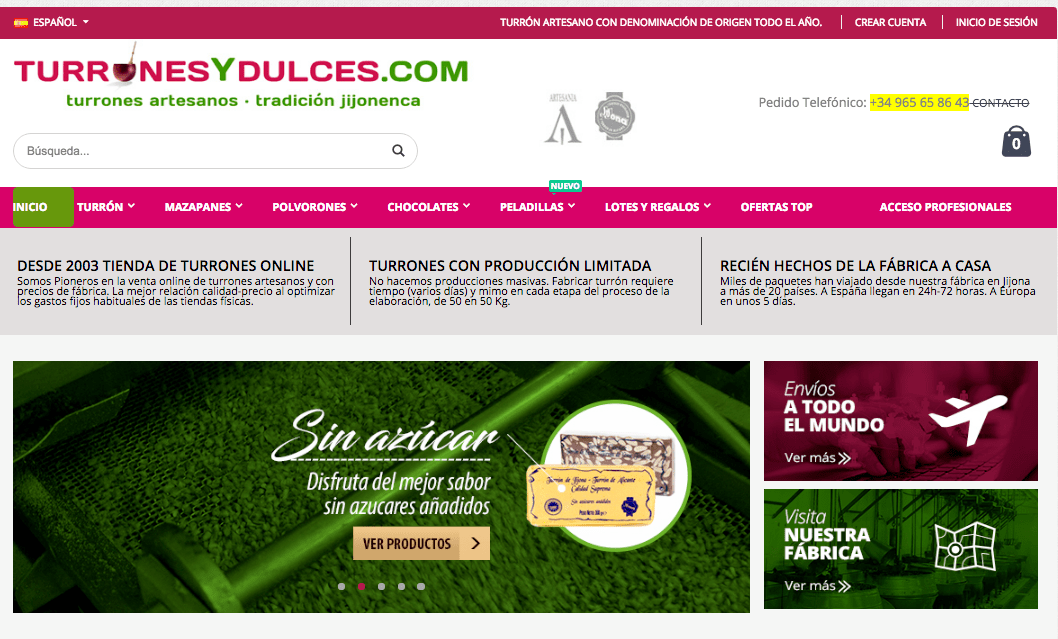 Our Objective
We simply came from a family business located in Jijona, the birthplace of nougat, which in its day wanted to make the leap to new technologies to be able to get our traditional products to many homes in our geography. We love the Internet and the engineering, we love the nougat and everything that implies this Christmas product so familiar and emotional, and we have put together these two passions to try to make it our model of life.
Nor do we want to die of success, that is to say, our goal is not to sell the more kilos of nougat better, but what we sell, like our customers. Our production is limited and, honestly, we do not intend to reach the world but to offer a service as possible and that our customers are satisfied, even if it sounds like a topic. We serve both companies and individuals.
The idea
We want to make the tradition compatible with the new technologies, without losing the personal "your you" treatment that has always characterized this industry and trade. That is why we have been in the network for almost a decade, trying to improve the customer experience year after year, mixing our knowledge in engineering and telecommunications with the know-how of the turronero sector.

Nuestros datos:
www.turronesydulces.com
B54825419
Av. Constitución 21, 1
03100 Jijona
Alicante
España

Datos registrales:
TOMO 3822, FOLIO 213, INSCRIPCIÓN 1 HOJA A-142928 de Alicante
Turrones 2.0
Among our main objectives is to make it possible to eat nougat throughout the year, to offer quality products at reasonable prices and to bring to all users and visitors information of interest on nougat and e-commerce. And for that we use from the first day tools 2.0 like the blog (to go telling our progress and anecdotes), twitter (to keep track of what we do day by day), meebo (online customer service), flickr and Picasa (for our photos) and videos on-line (youtube). Are you following?
Fabián López Coloma
Tlf. 617 21 96 46
Jijona [arroba] turronesydulces.com
A short story about turronesydulces.com
It all started around the year 2000, at the height of the technological bubble. Fabian started the university in 1998, and as his two brothers did, he sold nougats through the UPV and Valencia to finance part of the studies. The weekends of the season (from October to December) were special, since it returned to Jijona (from Valencia to Jijona there are about 140 km) to help in the nougat factory. On Sunday night he loaded the car with the nougats to leave early Monday for Valencia and try to distribute them the same day, and thus not leave the car loaded at night.